Join Bargaining Update on March 1
Attend a town hall via Zoom to learn more about what we can do to win Steps in 2023
As shared earlier this week, our first bargaining session with the CSU, as part of our contract re-opener, was promising. The CSU agrees with the concept that fair pay for 20,000 Support Staff requires creating a merit step salary structure for employees.
Our Bargaining Team will provide information about other issues under negotiations at two town halls scheduled for Wednesday, March 1, via Zoom. The times and registration links are below.

When: Mar 1, 2023 11:00 AM
Register in advance for this webinar
When: Mar 1, 2023 12:00 PM
Register in advance for this webinar
Now the hard work begins and the path forward will take every member coming together in strategic actions. One example is growing our Labor Coalition, campus by campus. Check out the "Union Pride Unity Break" that CSUEU members at Sacramento held last week, joining forces with members of California Faculty Association, Teamsters 2010, Union of American Physicians and Dentists, and Academic Professionals of California.
Good contracts are not won at the bargaining table, it takes collective worker action. Remember: Every single member can make a difference. If you work alongside someone who is not yet a member, have a talk and sign them up!
"This is truly exciting. We are coming together as unions that are supporting each other. We're going to have these events [unity actions] at our campuses together, to show we are supportive of each other.

"The CSU is not going to pit us against each other. We're going to have each other's backs."

-- Catherine Hutchinson, CSUEU President
Bargaining Survey Draws 4,300 Responses
Thousands of members stepped up and provided meaningful input for the bargaining survey this year. Based on members' feedback and priorities, the Bargaining Team will have clearer direction to negotiate over wages and benefits in the coming months with the CSU.
Highlights from the survey will be shared at next week's two town halls (see eNews item above) and posted across CSUEU communication platforms: Facebook, Twitter, Instagram.
The survey was comprehensive by design. We now have a better economic, educational, and racial profile of our membership. The data collected will help guide the union's advocacy work. One survey finding: 52% of respondents say they attended or graduated from the CSU. Of that group of 2,210, 51% report having worked as a Student Assistant during their CSU years. And a full two-thirds of respondents have a bachelor's or master's degree.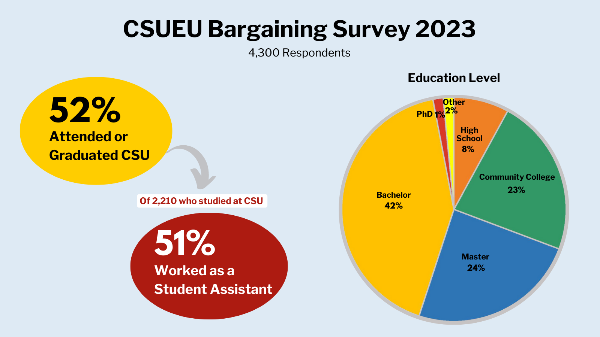 Like no other state institution, the CSU presents a huge opportunity for working class families seeking a path for educational and economic advancement. We can win a strong contract this year while helping Student Assistants form a union!
During last year's bargaining campaign, students came out of the woodwork to tell us their concerns about low pay, lack of benefits, few hours and poor working conditions.

What can you do? Share a union authorization card with a Student Assistant to sign, the first step to qualify for an election.

Check your email next week for a message from CSUEU with a custom link for you to forward to a Student Assistant.

We stand with Student Workers Union!

CSUEU President Statement on Qualifications Needed in Next Chancellor
The CSU Chancellor needs to create a shared vision of how the University will move in a climate of shifting demographics and revolutionary technology. As the largest public university system in the country, it has a storied reputation but an unclear path forward.
Our Union believes in - and works to promote – the vision that the CSU should serve our communities by providing educational opportunities to the working class and "First Gen" college students.
The workforce that powers the institution comes directly from the communities that house the campuses. With proper investment, campuses and communities rise together and uplift each other. >> Read full statement from President Catherine Hutchinson

The Disability Constituency Group, in collaboration with the California Faculty Association, is holding a Zoom event, "Disabled People in Higher Education: Coalition Building on Campus."
Activists Allilsa Fernandez and Shoshana Herskowitz will share how they united staff, faculty, and students with disabilities at Stony Brook University. With moderator Katie Murphy, Academic Office Coordinator of San Francisco State University, they'll explore how disability and accessibility impact our shared working, teaching, and learning conditions. How can we work together to break down barriers? How do we already create access for one another through our labor?
The event will be held on March 1, 12 - 1 p.m. Register here. The event is open to all CSU workers and students, so please encourage your colleagues and students to attend. It will be recorded and shared for those unable to participate.