CSUEU is working with the CSU, Gov. Gavin Newsom (through the Department of Finance) and the Legislature on a salary study to provide long-overdue reform to the CSU's broken salary system. At this time, Gov. Newsom is our most reliable ally as we continue to press for more equitable pay for CSU's Support Staff.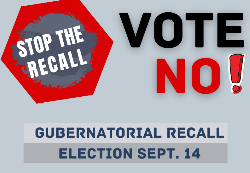 Have you voted "NO" signed and returned your recall election ballot? If not, CSUEU urges you to do it today! Voter turnout for the September 14th election will decide whether Gov. Newsom remains in office to support CSUEU's efforts to improve support staff salaries.
If Gov. Newsom is replaced by any of the Recall candidates running to unseat him, all that we have fought for to improve staff salaries will be lost. We fought hard during the state budget to have the Governor sign budget language providing $2 million and directing the CSU to work with CSUEU to hire an outside firm to assess support staff salary disparities. The budget language Gov. Newsom signed also directs the CSU to implement the study's recommendations.
Gov. Newsom has also directed the CSU to negotiate in good faith and reach an agreement with our Union to eliminate employee salary inversion and provide salary steps. Our last Governor vetoed our STEPS bill. The pandemic derailed these negotiations and talks.
If Gov. Newsom is removed from office, these hard-fought efforts will become futile.
We urge you to vote "NO" on the recall – the sole issue being decided in this election – and return your ballot today! Not voting will only help Newsom's opponents. Only by voting "NO" will our progress continue to improve the salaries of CSU support staff.
During his term as Governor, Newsom expanded paid family leave, guaranteed that every worker receives paid pandemic sick leave, achieved universal pre-K education for all children, provided $600 stimulus checks for those earning less than $75,000 a year and protected millions of renters from eviction.
STOP the Recall.
Vote "NO" on whether Gov. Newsom should be recalled. Sign and mail your postage-paid ballot today! >> More election information